This is Briana Brownlow of the blog Figs with Bri. We've never met Bri, never visited her or even heard of her food blog. The blogosphere is so grand and monstrous, it's just impossible to discover all the wonderful blogs out there. Luckily, last week, Manisha of Indian Food Rocks and Bee & Jai of Jugalbandi sent us an e-mail introducing us to lovely Briana and her fight against breast cancer. This time, it's second time the cancer is attacking. Now, we really wanted to know who this individual is.
After visiting her site, viewing her beautiful dishes and reading her honest writing, she is someone we really want to know and to help. We felt immediately connected to Briana and felt compelled to help her fight against this deadly disease who, at the age of 15, lost her own mother to breast cancer. But her fight does not come easy, nor cheap. With continuing medical costs that insurance companies are unwilling to cover, her choice to live, to fight and to prove that human life is more valuable than monetary costs, is inspiring. Her kind, genuine spirit is admired and loved by many. The food blog community has come together graciously to help Briana raise the funds to pay for her medical costs. Bee and Jai, Manisha, Shankari, Garrett and many others have worked tirelessly to bring the community together as one to help Bri fight her second round of cancer.
Fundraisers are set up HERE at Jugalbandias well as raffles full of gifts donated from many members of this wonderful food blogging family. See all raffle prizes HERE.
We're donating a gift to the raffle as well. This is something that is very special to us – a whole, fresh jackfruit! For those of those of you who love fresh jackfruit, hopefully this is exciting to you as it is to us. For those who have never had fresh jackfruit, it is a "watermelon" sized fruit with green, spiky skin that is both sweet and deeply aromatic and tasting with tropical fruit flavors such pineapple, banana, papaya and mango. Jackfruit is the world largest tree borne fruit in the world and normally grown in India, Thailand, Vietnam and other regions of Southeast Asia. We are lucky enough to have a local supplier that has whole, fresh jackfruit in stock.
Here is a our Jackfruit Video to show you what "Jack" is all about:
Video #11 – Watch Todd & Diane's "Mission" for Jackfruit.

Fresh Jackfruit – White On Rice Couple from White On Rice Couple on Vimeo.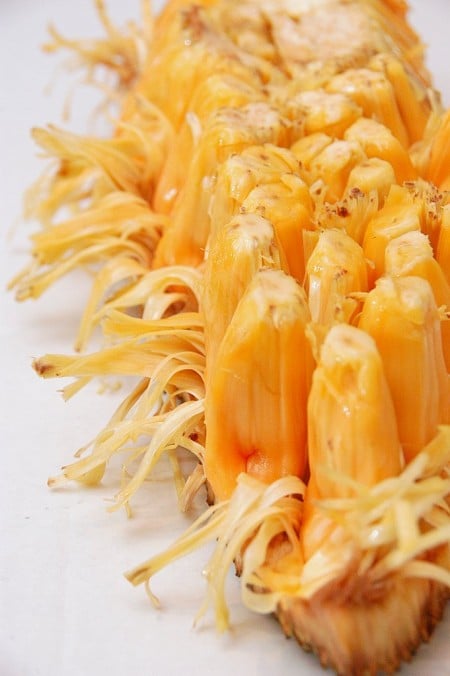 Yes, we are going to ship this monster of a fruit to the lucky winner of this raffle. But unfortunately "Jack" cannot travel past the United States, so all our international readers will not be included. But please, you can still donate to Bri if you can.
We are hoping to help raise $1,000 for Briana to fight against breast cancer. At $10 a raffle ticket for this wonderful Jackfruit, it means that we need 100 of you to help donate $10 to the raffle. But you will get one chance at winning this delicious and unique fruit.
Can you help Briana by donating $10 ? Yes, $10 is alot of money and buy many things: about 2.5 gallons of gasoline, 23.8 US postage stamps, 3 lattes, about 1 medium, one topping pizza, a super cheap haircut, or a quick manicure. But here, your $10 will help save a life of someone that already has something in common with everyone reading here- love of food, love of life and love of sharing. Your donation will also get into the raffle at winning this Jackfruit prize.
Your $10 donation will mean SO much to everyone involved in this continued commitment to fight cancer.
Many of you have already donated to Bri's fundraiser and we thank you so much for your generosity. But is you have never seen, touched, tasted or Jackfruit before, hopefully you'll be able to donate again at a chance to explore this wonderful fruit for your very own.
Here are the Jackfruit raffle guidelines:
1. Beginning Friday, June 6th, 2008, for every $10 you donate to Chip In for Bri, you will have one chance at the jackfruit.
Go Here to DONATE. Then fill out the form there and fill in the "Raffle Code Prize" as "JACKFRUIT".
After donating your amount, please comment back here on our site and leave a comment or e-mail us about your donation amount. After verifying with the fundraiser organizers, we will send you a confirmation e-mail of your donation and the number of your raffle tickets.
2. The raffle will end on Friday, June 27, 2008 at 12:00 pm midnight, Western Standard Time
3. The drawing will be conducted by the "Bloggers for Bri" team and the winner will be announced on Monday, June 30th, 2008. Thank you Bee and Jai and Shankari for helping us with this raffle!
4. Unfortunately, International doners outside the United States cannot participate in the giveaway, but we still encourage you to donate.
Please Donate HERE to help Bri and get a chance to win this fresh Jackfruit.
Thank you!

View all our VIDEOS Here
Cooking & Exploring !
Update on Bri- On October 26, 2008, Briana lost her fight with cancer.