We're hosting a little party here folks and you're all invited to participate in the festivities! It's quite an honor today to be hosting a blog book tour for  Roberta Isleib's newest novel, Asking For Murder. This suspenseful murder mystery is the latest in a series of fabulous novels that will have you reading into the wee hours of the night. Roberta is an amazing quadruple threat. She's a clinical psycologist, a mystery writer, president of more book clubs/organizations  than we can count and she's a dog lover.  We're hooked and thrilled to be having her here today to share a bit about a scene from her book, a dinner party gone bad. This has to be a topic that all of us food bloggers find familiar, right everyone? We all cook, dine , entertain and we're sure not all experiences are pleasant.

So let's all welcome Roberta Isleib and let the festivites begin!
ROBERTA: Since Diane and Todd were gracious enough to host a stop on my ASKING FOR MURDER blog tour, I thought it would be fun to talk about dinner parties gone bad. Haven't we all had one? Rebecca Butterman's (my psychologist main character) disaster appears in Chapter 15 of Asking for Murder. Rebecca's been busy trying to solve the mystery of who attacked her best friend, Annabelle. She's invited Annabelle's boyfriend, Russ, to dinner, thinking he might be the villain. Rebecca's boyfriend Bob and friend Angie are present too. She's sleuthing as she serves…
From chapter 15, in Rebecca's words:
Over a second drink, I served the antipasto: brightly steamed asparagus,
marinated carrots and artichokes, piles of olives, little blocks of sharp
cheese, and miniature rolls of Italian salami. The conversation between the
men toured through the surprise upsets in college basketball and Tiger
Wood's prospects in the new season.
"This is one gorgeous dish," Bob said, winking at me.
I rolled my eyes. "Mind opening the Australian red?"
Russ drained the last of his beer.
"Another beer for you?" Bob asked him.
"I'll get it," I said, thinking Annabelle had reeled in a first-class oaf.
As I got up to fetch the drink and start the carbonara, my knees buckled
under me.
"Ahoy there, matie," said Bob, grabbing for my hand.
Angie followed me into the kitchen.
"I don't like him," I whispered, setting a pot of water to boil for the
pasta and turning up the heat under the onion/pancetta mixture.
"I think he's just out of his league," she said, kneading my shoulders. "He
doesn't know how to talk to smart women. I'll take him the beer—let me know
if you need a hand."
I added wine to the frying pan, grated a mound of cheese, and whisked three
eggs together. Annabelle was definitely a smart woman—what had they
discussed? Did they have anything in common? With the salad dressed and
carbonara steaming, I called my guests to the table.
"Did you ever get to see Annabelle last night?" I asked Russ, as we sat
down to dinner.
"They wouldn't let me in," he said, splashing a bit of sauce on the
tablecloth in the process of mounding his plate with pasta. "I called again
this morning and the clerk said not even to bother."
"Apparently there was a punk rock star on the unit," I said.
"Gangsta rap," he corrected me. "Shock Daddy. He hit the top ten last week
with Assume I'm Right, Bitch. It's interesting stuff." Having twirled a wad
of spaghetti onto his fork, he shoveled it into his mouth, chewed, and
swallowed. "Don't give me no lip because I earn the check," he grunted,
swaying his upper body like an overdeveloped snake charmer and tapping my
grandmother's sterling silver knife on my Christian Dior china. It would
take a hundred and fifty bucks on an E-bay auction to replace that one
plate. "Don't give me no lip, bitch, assume I'm correct—"
"You can't be serious," I said. "That's undisguised misogyny! That's the
kind of bullshit music that gives young men a license to abuse."
"Whatever," said Russ, laughing. "Don't take it so seriously. It's just
music. When you're working with your hands all day, you need tunes with a
good strong beat. Rap does it for me. Could you pass the cheese down this
way please?"

ROBERTA,  again : The party only goes downhill from there! Tip number one: try
not to mix detective work with entertaining! And number two: watch your
alcohol consumption! Of course Rebecca does a lot right, too. She chooses a
menu that she's tried before–and one in which the food can be prepared
ahead. Like Todd and Diane, she's a super cook and entertainer.
Now the floor is open for your stories.I'll send a signed copy of ASKING FOR MURDER to the person with the worst disaster!
White On Rice Couple: Wow, thanks for the fun Roberta! You're so correct, sticking to a menu that we've tried before is vital to avoiding any potential disasters. We normally do choose menu's that we've tried before, but the one time that we didn't , it was a disaster !  A few weeks ago we catered our first party of 35 people. The birthday boy requested mini sized devils food cupcakes with milk chocolate frosting and raspberries for his birthday dessert. He didn't want anything fancy, just simple cupcakes. Well, we decided to surprise him and make him a GIANT CUPCAKE for his serving. We've never made a giant cupcake before and thought it would be easy to make a giant cupcake. How difficult could it be? Just make some three and five in cakes, stack them and carve out a muffin top. Easy! Geez, were we WRONG!
Here are some pictures to illustrate dinner party disaster evening:
First off, the good news: mini devils food cupcakes with milk chocolate frosting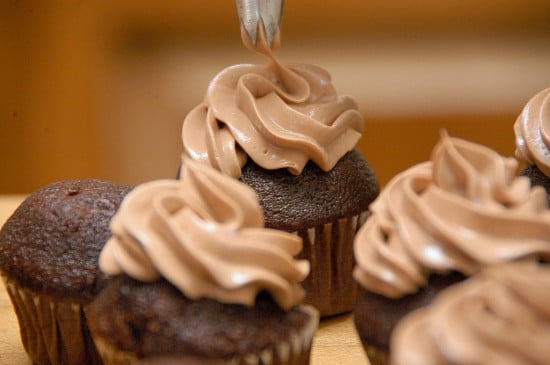 Beautiful raspberries on top
waiting in line for the garnish….
…with baby chocolate mint leaves!
Voila! Easy!
Now the disaster: Our attempt at the Giant Cupcake! First of all, it was a lopsided, uneven mess! Crap! And on top of that, we forgot to bring the parchment paper to wrap the base to create the cupcake paper look on the bottom . Diane is using a paper napkin to wrap the base. We carved the cupcake top too fast and it tapered too much at the top. It looked like a funny looking mushroom cake instead of a cupcake!

Look closely at the dots on the paper napkin! It looked so bad, we decided to eliminate the paper all together.

We ran out of frosting and tried the best we could to seal the messy cupcake top. There were so many gaps, we tried to patch up the holes with what ever frosting we could salvage.
The wife of the birthday boy holding the lopsided, uneven finished product. The raspberries were all crooked too because we tried to hide all the open gaps with raspberries. We also forgot to bring the birthday candle, so the hosts were frantic! The only thing we could come up with was a TEA LIGHT ! So you can see the tea light plopped on top of the chocolate "mushroom" mess!!!!!
The birthday boy says: "OMG! WTF??!!! Eeeeeek! How scary.".
But he graciously smiled for the picture and blew out the tealight. Later on that night, the top of the giant cupcake was so top heavy, it fell over!
So there is our disaster story: The attempt at the giant cupcake. Please share your dinner disaster story and maybe you'll win Roberta's signed book! Also, a big thanks to our friend, Dani, who started this great Blog Book Tours event.!!